Locking Parish
LOCKING PARISH NEWS AND EVENTS, NORTH SOMERSET
Locking Village, Oak Tree Park, Locking Grove, Locking Parklands and Flowerdown Park
Services in St Augustine's Church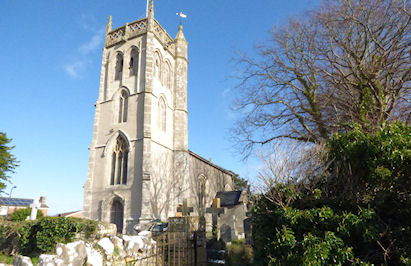 Sunday 15th May - 10.00am Family Service
Sunday 22nd May - 10.00am Celebration Sunday in church centre
Sunday 22nd May - 4pm Evening Prayer
Sunday 29th May - 10.00am Joint service in Hutton
Sunday 5th June - 10.00am Jubilee Celebration Service
Ukraine Crisis
There is a basket in both churches for Samaritan's Purse emergency work for the Ukrainains. If you wish to give directly then please see www.samaritans-purse.org.uk
Tear Fund have produced prayer resources for praying for the situation in Ukraine. See: https://www.tearfund.org/stories/2022/03/how-to-pray-for-ukraine. There are some copies in each church for you to take.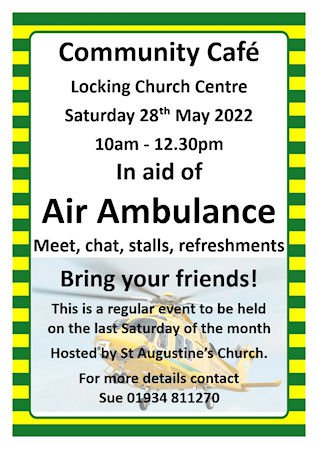 Open Church - Queens Platinum Jubilee Exhibition
Queen's Platinum Jubilee Exhibition in St Augustines Church on Wednesdays, Thursdays and Saturdays 18th May - 18th June. Her early life, accession, coronation, jubilees. See photos, videos, family tree, original newspapers from her reign 1952 - 2022.
Community Cafe
Saturday 28th May, 10am - 12.30pm, Locking Church Centre. Meet, chat, stalls, refeshments. Bring your friends. In aid of Air Ambulance.
Messy Church
Saturday 21st May 4pm - 6pm in Hutton Village Hall. 'Come on and Celebrate'. Crafts, songs, fun, friends, giving thanks - hot meal for the children. Everyone is welcome.
Celebration Sunday
Sunday 22nd May, 10.00am in Locking Church Centre. ' Gifts Galore'. Coffee and cakes, activities for the children, informal worship, suitaale for all ages.
JAM
Jesus and Me Locking children's group on 1st, 2nd and 3rd Sundays at 10am. We start in the service and then the children leave for their activities.
The Queen's Platinum Jubilee Big Lunch Celebrations
12 noon - 6pm Friday 3rd June - Big Picnic Lunch in Banwell Road Playing field to celebrate HM The Queens 70th Jubilee. Bring a picnic, blanket, chairs and food and enjoy. Singers, music, magician, bouncy castle, fancy dress parade, bar, food truck.

Locking Parish non-profit Groups/ Organisations and charities are invited to come along and fundraise by having a stall or running a fun activity at our Community Event – The Big Picnic Lunch on Friday 3 June 2022 at Old Banwell Road Playing Field – welcoming the whole community to celebrate and take part in a fun filled day – please contact the Clerk to register your Group/ Organisation or Charity letting us know who your raising money for and why. Contact Dawn on 01934 820786 for more information.
Singing Praise Group
Please contact Margaret Cooper 01934 822408 if you are interested in joining the praise group. We meet in the Church Centre green lounge 7pm on the last Friday evening of the month. Next meeting Friday 29th April.
Guest Speaker - Are Humans Special?
Friday 10th June 7pm Locking Church Centre. John Bryant Professor Emeritus Biosciences from Exeter University speaking on 'Are humans special?' John is both a Christian and a Scientist and a great speaker.
Alpha Course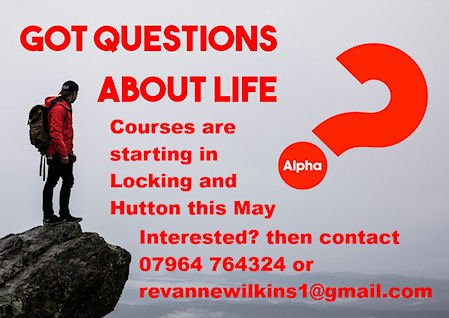 Alpha - heard about Alpha and never done it? Want to know what it means to be a Christian? Have questions about life and faith? Have a friend or family member who you think might want to come along? Then why not join us in May as we start Alpha. Please contact Anne tel 01934 823556 if you are interested.
Flowers
Flowers in St Augustine's Following a break of two years due to Covid I am re-instating the church flower diary. If you previously gave a donation to celebrate or commemorate a life event and wish to continue, or if you feel you would like to start to do so, please get in touch during January/February. Flowers are a wonderful way to give thanks and provide a welcome to all who visit our church, so if at this time you feel able to offer a small donation to help support this, it will be most welcome. Gillian Jones. Tel: 07594 238609
Foodbank
Foodbank donations can be left on the doorstep of John and Margaret Bailey, 31 Willow Drive, Hutton or Chris and Anne Wilkins, The Vicarage, The Green, Locking (next to the Church Centre) where they will be collected and taken to the foodbank.
Somewhere To Go
As the number of people using our service rises, the number of meals, we need to provide at the day centre, increases. Without donations we are unable to serve filling and nutritious lunches for those that need it. I am asking for help with donations to make these meals so we can continue to help vulnerable members of our community.... We are looking for the following: Meat, vegetables, fruit, potatoes, tinned meats, protein bars, marmite, honey, peanut butter, snack items, Cereal, coffee, sugar and anything else you feel may be of use. I would like to thank you all for continued support and thank you in advance for any items you may be able to help with. Please drop any donations off the Mike and Margaret Cooper, 33 Grenville Ave, Locking BS24 8AJ who will take then to Somewhere To Go. Thank you!
Locking Parklands Community Church
Locking Parklands Community Church is an ecumenical church which meets on Sundays at the Parklands ET Primary School. For meeting times, news and activities see parklandscommunitychurch.com and Locking Parklands community church. Regular activities:
1st Sunday in the month: 11am Gathering Sunday @ Parklands ET Primary School
2nd Sunday evening: Parklands Prayer Walks
3rd Sunday afternoon: Family Church @ Venue TBC
4th Sunday afternoon: Social Sunday
Every Tuesday: Midweek Church
Parklands Pop-Up Cafe
Pop-up Cafe on Sat 9th April, 14th May, 11th June, 9th July from 10am to noon in Parklands Educate Together Primary School. Come along for a chance to meet up with old friends, make some new ones, enjoy a cup of coffee or tea and a yummy cake, and let the kids do a free craft.
If you need help in these difficult times
Please call Anne Wilkins on 01934 823556 to chat if you need help. Also The Red Cross has launched a help line for anyone who is "feeling lonely or worried, finding it difficult to access food or medication", or are concerned about someone else who is.
Call free and confidential on 0808 196 3651 to chat to a Red Cross volunteer.
Help is offered with:
- Help with practical information and advice.
- Emotional support.
- Connecting with local support.
- The phone line is open daily from 10am to 6pm.
Little Ark Toddler Group
We are a very friendly group of parents, grandparents and carers who meet every Wednesday in St Augustine's Church Centre between 10.30am to 12.30pm during term time. All children are welcome between the ages from birth to school age. We have a large variety of toys including a slide, Happy Land, Play Dough and an area for very young children and much more. Every week we have a different craft activity. The cost is £2.00 per family which includes tea, coffee, squash and biscuits. So why not give us a try and join in the fun. Please contact Gail Smith on 822951 if you would like to come along. Please let anyone know who has pre school children who might be interested about this!
Craft Club
We are a friendly group of ladies who enjoy a natter while crafting. We meet on Monday mornings during term-time from 10am – 12 noon in St Augustine's Church Centre. The cost is £2 per session to include tea/coffee and biscuits. We welcome new members. Please bring your own craft to start with, but later in the term we hope to have craft demonstrations which could introduce you to new crafts. For more information call Eileen Begent on 01934 822050
Scouts, Cubs, Beavers, Guides, Brownies & Rainbows
In St Augustine's Locking Church Centre. Some groups have now restarted. Call the contacts below for information.
Monday 6.00pm-7.15pm: 3rd Locking Brownies - Contact: Carolyn Welford 07795 568041
Monday 6.15pm-7.15pm: 3rd Locking Rainbows - Contact: Becky Asling 07769 904081
Monday 7.45pm-9.00pm: 3rd Locking Guides - Contact: Carolyn Welford 07795 568041
Tuesday 6.30pm-8.00pm: 1st Locking Harriers Cubs - Contact: Emily Burnell 07909 220224
Wednesday 7.00pm-9.00pm: 1st Locking Hurricanes Scouts - Contact: Gareth Coombes 07780 830 966
Thursday 5.30pm-7.15pm: 1st Locking Spitfires Cubs - Contact: Dave Smith 07443 625 781
Thursday 7.45pm-9.15pm: Weston Mendip Senior Section/Rangers - Contact: Carolyn Welford 07795 568041
Parade services at 10am in St Augustine's church on Promise Sunday, Harvest Festival and Remembrance Sunday.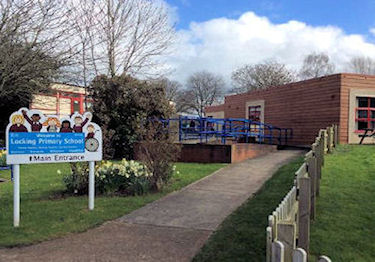 Locking Primary School
Head of School: Natalie Sweet Tel: 822867
Website www.locking.n-somerset.sch.uk
School Term dates Academic Year 2021-22
- Term 3: Tues 4th Jan 2022 - Fri 18th February 2022
- Term 4: Mon 28th Feb 2022 - Fri 8th April 2022
Inset Day: Fri 11th Mar 2022
- Term 5: Mon 25th April 2022 - Fri 27th May 2022
Inset Day: Mon 25th April 2022, Bank Holiday: Mon 2nd May 2022
- Term 6: Mon 6th June 2022- Fri 22nd July 2022
Locking Primary School is situated approximately four miles outside of Weston Super Mare. We are fortunate to have very beautiful grounds which include large playing fields and a great variety of trees. We share our grounds with several squirrels that can often be seen in the trees or scurrying across the playground. We are a large school with a village ethos where everyone works together to ensure all pupils have a wide range of opportunities and experiences to fulfill their potential. Developing the 'whole child' is at our core. We have approximately 398 pupils, housed in three separate buildings, a FS2/KS1 block, a KS2 block and a new block. FS2/KS1 and KS2 come together for various activities, which include a weekly celebration assembly. KS2 Play Leaders also help the younger pupils at playtime and lunchtime.
Locking Pre-School
At Locking Primary School, Lime Close, Locking. We welcome 2, 3 and 4 year old's. Parents/carers are welcome to have as many settling in/taster sessions with their child before they start their sessions
We are open Monday, Tuesday, Wednesday, Thursday, Friday. Term time only.
Morning Session 9:00am - 12:00noon, Afternoon Session 12:30pm - 3:30pm, Lunchclub: 12:00noon - 12:30pm
Contact 07810 242330 www.lockingpreschool.com
Parklands School
Parklands Educate Together Primary school opened in September 2018 on a temporary site, moving to our new permanent building on Russell Road in September 2020. We are delighted with our new facilities and look forward to welcoming you to our school at the heart of the community, providing a great learning environment for all its pupils and local groups alike.
Headteacher Jeremy Hughes Tel: 01934 404555 parklandset.org.uk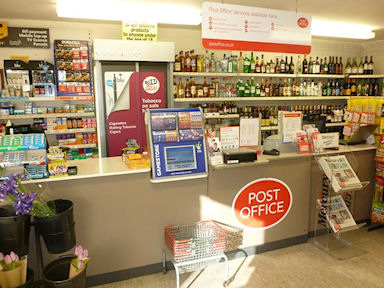 Flowerdown Tots
Friday term time only from 9.30-11.15 in Locking Village Hall
Joanna, mum of two and a teaching assistant at Parklands Educate Together Primary, recently decided to start a community toddler group to give parents and their children somewhere to come and relax, eat cake, drink tea, make new friends, and have fun together. Cost £2 per adult. Contact FlowerdownTots.
Manor Stores and Post Office
1 - 2 Manor Court, Meadow Drive, Locking. Tel: 01934 822501
Open Mon - Sat: 7.00am to 6.30pm, Sun: 8.00am to 1.00pm
"Reading the article on Manor Stores in the July issue of 'CrossLinks' has given me the opportunity to say a big 'Thank You' to the proprietors. Manor Stores and now the Post Office needs everyone's support. Locking Village, I feel, would be much the poorer without them." - Mrs. K. Thompson
Locking Parkside Cafe
Offers freshly ground premium coffee, breakfast, lunch, afternoon tea and snacks all from locally sourced food. Parkside café is located opposite the park next to the local Pharmacy. We have seating inside and out and the local park is ideal for the children to play in. 62 Grenville Avenue, Locking parksidecafe.co.uk
Locking Doctors Surgery - Village Hall surgery currently closed.
Contact 168 Locking Road Medical Tel 01934 624242
Locking Pharmacy
Genville Avenue, Locking. Tel 01934 827771
Martin and his team are available for prescriptions and consultation
Open Mon - Fri: 8.30am to 6.30pm, Sat: 9.00am to 1.00pm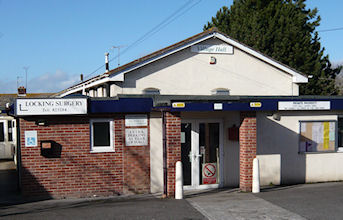 Locking Parish Council
Meets in the Village Hall on the 1st Thursday evening of each month. The Parish Clerk is open to visitors in the Village Hall office on a Tuesday morning from 10.00am - 2.00pm. Contact the Clerk on 01934 820786. Website: lockingpc.co.uk
Police
PC Dave Eastham, PCSO Aisha Mitchell, PCSO Keyley Anerson and PC Mark Savage are our local neighbourhood policing team.Please feel free to contact them if you have any issues or concerns. Contact them either on 101 or via avonandsomerset.police.uk
Locking Weather
Current weather conditions from Locking Weather station and forecasts for the Locking area can be viewed at lockingweather.co.uk
Locking Park Football Club
We currently have an adult first and a reserve team in the first and second division of the Weston and District leagues. For youth we have on under 8, one under 9, two under 12, one under 14 teams and a new under 18 team. We are always looking for new players for all age groups. If you are interested see lockingparkfc.co.uk
Steep Holm Shirkers
The 'Shirkers' are supporters of Steep Holm Island off the coast at Weston-super-Mare: we raise funds, work on the island, do talks etc. Some of the members work on the island as required, as well as fundraising, but most of them are 'armchair' members who are keen to support us. We raised £429 from the sale of books last year. With thanks to Rob and Leslie for their support and to everyone who has bought and donated books. Last year were only able to manage four public trips this year, the rest being cancelled because of high winds, which have got worse over the last few years. However, at the end of the season, we did have a visit from a cruise liner, a first for us. Membership is a minimum of £3. Details from Pam on 823312.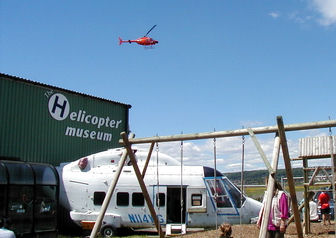 The Helicopter Museum
The new entrance building is now open and complete with a brand new cafe and display area. The Helicopter Museum is looking for volunteers to join their team for help setting up etc at their events which are held throughout the year.They would be happy with any time you have to spare. They also need volunteers for the shop and new wardens for the Museum of the Airfield. See helimuseum.com
Please contact Lee or Tom on tel 635227 or fill in the contact form on the Helimuseum website.
Locking and Hutton Women's Fellowship
Meets in the Green Lounge at the Church Centre, 1st, 3rd and 5th Thursdays from 2.45 – 4 pm
Locking Seniors Club
We meet fortnightly on a Wednesday afternoon, 2pm-4pm, in the Church Centre. We are a very friendly group and have plenty of room to welcome more members. At the January coffee morning, held in St. Augustine's Church Centre, Senior club ran a cake stall along with various items for sale ad raised £224 for the Weston branch of RNLI.
Dates for forthcoming meetings: April 6th, April 20th, May 4th, May 18th June 1st, June 15th, June 29th, July 13th, July 27th
We still have room for new members! For more information, please contact Anthea on 01934 820255
U3A Guitar Group
Meets every Tuesday 2pm-4pm in the Locking Parish Hall, Grenville Avenue, Locking. So please come along and give it a try. U3A has 800 members in Weston-Super-Mare and holds 80 different groups including: table tennis, knitting, book club and French. All Welcome - Especially Beginners – Contact Chris 01934 517348 or Derek 01934 823342
Locking Parklands Singers
We are a group of adults who enjoy singing together, having fun and making new friends. We sing for pleasure choosing a range of familiar songs we enjoy. You do not need to be able to read music and we welcome all singing abilities. Our musical director, Lucy Rush, leads us and helps us to sound the best we can in a 'no pressure' style. Occasionally, we also enjoy leading 'singalong sessions' for groups of people who want to join in and sing with us. We meet on the first Wednesday of each month at the Radio Wing, McCrae Road, Locking Parklands from 7.30pm-9.15pm. There is a small charge (£4.50) to cover costs including refreshments. Your first visit will be free, to give you a chance to come and see what we do with no obligation. Do come along we'd love to see you! For more information - contact Christine Hall - 01934 827686
Oak Tree Park Residents Association
A community bus visits the site to take passengers to the Weston town centre and various other drop-offs arranged with the driver. A time table leaflet can be obtained from Weston and District Community transport Tel: 629657 or Oaktree Park Residents Association; Les Mason Tel: 07817 154 845
The Royal British Legion
Hutton, Locking and Oldmixon Branch of the Royal British Legion – New Members Welcome
Meets at Hutton Village Hall on the second Tuesday of each month at 19:30.
Legion membership offers a wealth of opportunities to build relationships and share experiences with like-minded people. We can promise new members a warm and friendly welcome and would be delighted to meet you at one of our meetings. For more information, please Contact Peter Follett (Branch Secretary) T: 01934 814637
Mendip Society
The Mendip Society exist to protect, and promote enjoyment of, Mendip and has a regular prgramme of walks and talks. Walks take place each weekend (usually Saturday afternoons), and most talks are held at Wells Museum. Visitors are very welcome and it is generally not necessary to book. For more information see themendipsociety.org.uk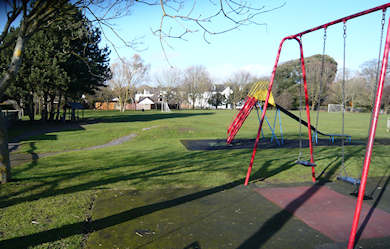 Venues for Health Visitors Drop-in Sessions
- Tuesdays from 9.00 - 11.30am,, Ashcombe Children's Centre, Stepping Stone Walk, off Earlham Grove, WsM, Tel: 426380
- Tuesdays 10.00 - 11.30 am, Central Weston Children's Centre, 81-83 Meadow Street, WsM, Tel: 426794
- Wednesdays 9.00 - 11.00 am, South Weston Children's Centre, Flonsdale Avenue, WsM , Tel 427550
- 1st and 3rd Wednesday of the month from 1.30 - 3.30 pm, Banwell Children's Centre, West Street, Banwell
- Thursdays from 9.30 - 11.30 am, Milton and Old Worle Children's Centre, Mendip Avenue, Worle, WsM, Tel: 426380
- Fridays from 9.00 - 10.30, Oldmixon Family Centre, Monkton Ave WsM, Tel: 427619
Mobile Library
Visits Locking fortnightly on Fridays and stops at Meadow Drive 4.20pm - 5.05pm.
Friendly staff, lots of books, talking and large print books.
Waste Disposal
Collections of Green recycling boxes every Thursday. Black wheelie bin and Green garden waste wheelie bins fortnightly on Thursdays. You can order Green wheelie bins from North Somerset Council.
St Augustine's Church Hall and Meeting Room
The Church Centre can be booked for hire by anyone wishing to hold meetings or parties. There are 2 Halls - a large one and a small Hall and also a purpose-built Lounge with kitchen facilities. Any booking of the Hall includes the use of a fully fitted kitchen To enquire about hiring the Centre for parties and events please contact Chris Wilkins on 01934 822857 or click on Contact
Locking Village Hall
To hire the Village Hall please contact Dawn on 01934 820786