Letter from the Vicarage
The Vicarage, Locking, 3rd July 2022
Dear friends,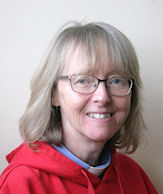 I have been very happy lately as we have been having some glorious summer days – not too hot (though some have complained about the heat). I am in love with the summer and wish it could be like this all the time. I think I love summer because everything is so alive and colourful – the sky is brilliant blue and the sun resplendent and warm. The days are long with it still being light at bedtime, the sunsets are an artist's delight and the best thing is that we can sit outside without freezing. A chair outside in the sun, with a good book and a cup of tea is my favourite place.
The phrase that comes to mind is Jesus saying 'I have come that they may have life and have it to the full.' John 10: 10 This has to be read in context though, as Jesus is talking about Him being the gate and also the Good Shepherd. True abundant life does not depend on the weather, our personal situations or the economic climate. True abundant life comes though knowing that we belong to Jesus – we are His sheep and that is He there to lead and guide us. It's in knowing that He laid down His life for us and died for us and rose again. In that we find abundant life and hope for today and tomorrow and for all eternity.
Lately I have been listening to people who are not really experiencing that abundant life or even a happy life. The mum who had no food, the lady who had lost her partner and was scared of hidden secrets, the person who was lonely, the lady who had an abusive partner, people struggling with old age and those with mental health issues. It's like when Jesus says in this same verse 'The thief comes only to steal and kill and destroy.' John 10: 10. So many people are struggling today – even people in our own communities.
As followers of the Good Shepherd, we hold the key to abundant life – the good news of Jesus and the new life and hope that He brings. BUT we also need to offer people practical love. Jesus says 'For I was hungry and you gave me something to eat, I was thirsty and you gave me something to drink, I was a stranger and you invited me in, I needed clothes and you clothed me, I was sick and you looked after me, I was in prison and you came to visit me.' Matthew 25: 35 'Truly I tell you, whatever you did for one of the least of these brothers and sisters of mine, you did for me.' Matthew 25:40.
I wonder what you and I can do, and what we can do as churches to bless those in our community? What can we do to help those who need food, need company, need support? It's something we need to talk about. If you have been blessed with abundant life – through Jesus and also through the good things you have, then we need to share that with others. Sharing the good news of Jesus can start with reaching out in practical love.

Enjoy the summer!

Revd Anne Wilkins
---
Click Here - for Stay Connected News, Notices and helpful information
Click Here - For our latest Talks and Sermons