St Augustine's Parish Church - Locking
Church of England welcoming people from all denominations and none
The village of Locking is near Weston-super-Mare, in the county of Somerset in the South West of England. The Parish church stands on a hill above a valley by the Mendip Hills and with views towards the nearby coast. Christians have worshiped on the site for over 800 years and there has been a church here since around AD 1230. The medieval church tower dates from 1380. The Christian community meets for Sunday services at
10.00 am Family Service every Sunday. Children and babies welcome. Holy Communion on 2nd Sunday in the month. Celebration Sunday informal service in Church Centre on 4th Sundays. Joint service with St Mary's Hutton on 5th Sunday in the month.
6.00 pm Evening Prayer on 3rd Sunday. Holy Communion on 4th Sunday in the month.
The church is open for all visitors from 10am to dusk on Wednesdays, Thursdays, Saturdays and Sundays. It includes a local history display about Locking and the local area. Also on Thursdays, from 2pm until 5pm, tea, coffee and biscuits are available for visitors to enjoy. The Church Tower is currently being restored. For news of the Church Tower and Heritage project click
Here
.
This week's Notice Board and Services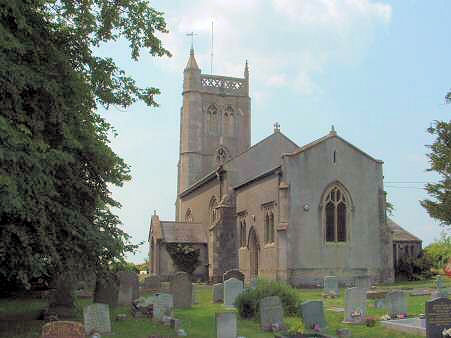 Who and What are we?
St Augustine's is a Christian Church. That means that we put Jesus Christ central in our worship and teach and encourage each other to live our lives in a similar way.
St Augustine's is an Anglican church. We belong to the Church of England. This means that we belong to an organisation that has millions of members worldwide. The Anglican church is one branch of the largest family in the world -the whole Christian church. It also means that we have a legal responsibility for the parish we work in.
This means we baptise, marry, and take funerals for people who live in the community, we reach out to the community in love and we are responsible for praying for it. Special Services - Baptisms, Weddings and Funerals.
LOVE LOCKING
A few months ago you received a card through your door saying that we are praying for your street that week. As your Parish Church we want to be caring for and loving our community. We would love you to contact us if:-
- You would like someone to visit you in your home
- You would like us to pray especially for something
- There is something we can help you with
You can contact us: Phone – 823556 or 822857 or leave a message in the Church Centre post box with your contact details
We are here for you as your church – serving our community.
If you want prayer for yourself or for another person, please ring us up and ask. If there is anything that you want to talk about in confidence - again, we will be happy to listen to you or recommend you to the ministry Team..
Rector:
Rev Anne Wilkins

Churchwardens:

Mary French and Eddie French

Administrator:

Chris Wilkins

Verger:
Pauline Moore

Music Group:

Tony Coles

Treasurer:
Richard Colkin
Safeguarding officer:
Marion Dumbell
Electoral Roll Officer:
Bill Dredge
Mission Support:
Richard Colkin
Crosslinks Magazine Editor:
Chris Wilkins
Magazine Adverts:
Tony Coles
plus many others who help and support our Church worship, activities and events
To contact any of the above click on Contact
If you wish to contact the Safeguarding Officer of any of the above in confidence please send your contact request via the Contact form and we will send their telephone number to you.
Church Address
St Augustine's Church, Lychgate Park, Locking, Weston-super-Mare, Somerset, BS24 8DA
Car Park next to the Church. There is a disabled parking space in front of the Church and easy access into the Church and Church Centre.
Vicarage
The Vicarage, Lychgate Park, Locking, Weston-super-Mare, Somerset, BS24 8DA - Tel: 01934 823556
The Benefice of Hutton and Locking
The Parishes of St Mary the Virgin, Hutton and St Augustine's Locking are part of the one group or Benefice sharing the same Rector. Each church has its own identity with Hutton being more traditional and Locking more informal. Both churches work together and have a joint Leadership Team, Alpha Course, a joint Pastoral Team, a joint Ministry Team and a joint Home Group Leaders group. On a fifth Sunday we worship together in one of the churches. We also share an administrator who is based in Locking Church Centre. Both churches have the same aims:-
• To worship God as Father, Son and Holy Spirit.
• To grow in their relationship with God through prayer and teaching.
• To build a sense of family in each church and jointly.
• To serve and reach out to each of the communities that we live in.
• To do all this in the name of Jesus
Both churches are friendly and very open to new people joining – they are loving communities of people who love Jesus and who want to share this with others. To visit the web site of St Mary's Hutton click here.
Contact Hutton and Locking Church Office
The office is Located in Locking Church Centre opposite St Augustine's
Office hours: Mondays, Wednesdays, Fridays 8.30am - 11.30am
Please ring at these times or leave a message on the ansaphone and we will get back to you.
Enquiries welcomed about baptisms, weddings and other church matters.
Tel: 01934 822857 or click on Contact
Halls and Meeting Room To Hire at Locking Church Centre, North Somerset
Large Hall - seating for 100 people
Small Hall - seating for 35 people
Both Halls include kitchen facilities.
Green Lounge with tea/coffee facilities and seating for 25 people
See Halls and Meeting room details for costs and availability.
For booking enquiries call 01934 822857 or click on Contact
Our Activities include
Homegroups for Bible Study and Fellowship. Women's meetings, Prayer cells, Childrens groups, plus a variety of courses to help explain Christian faith.
Mid-Week Bible Study Groups meet in various homes. Contact Tony Coles: 01934 822678
Alpha Course
This is a ten week course for anyone who wants to explore the Christian Faith.
Prayer Ministry Team
Available for ministry and prayer for all in need. Contact Tony Coles or Cliff Dumbell. We also hold regularly services of Prayer for Healing. Please ask for prayer for Divine healing or prayer for other matters or advice.
Childrens Work and creche every Sunday - meet in Church at 10.00am
The Little Ark
The Ark is a mother and toddlers' group which meets on a Monday afternoon from 1.30 - 3.00 pm during school term time in the Church Centre. We have a spacious hall, and a good variety of toys for the children to enjoy and use and we provide art activities for the older children. We have tea and biscuits and the opportunity to chat and meet new friends.
The Ark Pre-School
Morning and Afternoon session most weekdays in St Augustine's Church Centre - www.thearkpreschoollocking.com/
Crosslinks
St Augustine's Crosslinks Magazine is distributed free of charge to all 1,420 homes in the Parish.
Scouts, Beavers, Guides, Brownies and Rainbows
Parade services are held on Mothering Sunday, Promise Sunday, Harvest Festival and Remembrance Sunday.
Women's Fellowship
Meets on the 1st, 3rd and 5th Thursday in the Church Centre at 2.45pm with guest speakers. All ladies are welcome to come and join us. Contact Julie Hardy: 01934 824575
Fairtrade
St Augustines Locking is a Fairtrade Church and seeks to promote the use of Fairtrade products.
Bell Ringing
There are six bells in the tower. Following repairs to the tower we started ringing again in April.
Practice evening is on Tuesdays at 7.30pm, and ringing before the morning service on 1st and 3rd Sundays as well as on the 4th Sunday evening. Contact for bell ringing and visiting ringers is Colin Hornett: 01934 820141
Locking is a Deanery within the Diocese of Bath and Wells. See the Bath and Wells Website.
Diocesan Safeguarding
Diocesan Contacts for Reporting Safeguarding concerns
Data Privacy Notices